Books | CDs | History In Person | Cart | Checkout

Welcome to the enchanted world of Fox Tales International where you can purchase a book, a CD, or download a story instantly! Through whichever mode you choose, you will soon find yourself traveling back through time, entering the worlds of mystery and magic, or meeting the greatest minds in science, art, history and literature. If you would like Fox to autograph a book or CD please let us know to whom in the comment section of the checkout process.

Your shopping cart is empty!
Civil War Ghosts and Legends
A New Musical by Prairie Folklore Theatre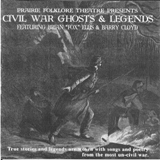 Book by Brian "Fox" Ellis
with Traditional Music by Barry Cloyd
True stories and legends are woven with traditional songs and poetry from this most un-Civil War. Join us as we travel back in time to the bloody battlefields, gruesome prison camps and haunted graveyards of America's deadliest conflict. Poetry by Walt Whitman and classic horror stories by Ambrose Bierce are blended with popular songs by Stephen Foster to bring to life the bloodiest chapter in American History. Through visceral stories and haunting ballads listen to eye witness accounts of the triumphs and tragedies of many of the major battles.
The CD features storyteller, author and historian Brian "Fox" Ellis and folksinger, songwriter and multi-instrumentalist, Barry Cloyd. In the persona of Mathias Stritt, a German immigrant who was one of the first to enlist and later served with General Sherman as he burned Atlanta and marched to the sea, Fox puts the grand arc of the war into historical perspective. Cloyd portrays Joseph Henry Munroe, the Drummer Boy of Shiloh who was taken prisoner, escaped and then re-enlisted; later in life, Munroe taught high school music and shares his love for the songs of the era. Together, these two old ghosts, Stritt and Munroe, weave true stories into original songs interspersing their first hand knowledge of the war with traditional folk tunes.
All CDs are $17.00, Shipping and Handling included.